Fluke introduces key benefits of user-friendly testing tools for solar power technicians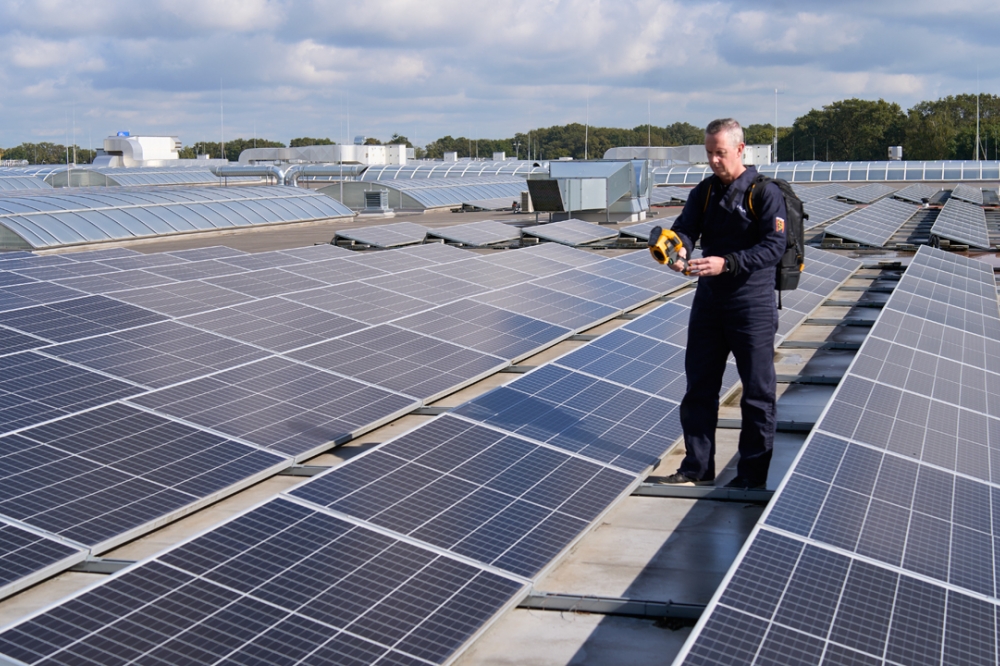 As nations around the world push ahead with protecting the planet and minimising the use of fossil fuels, installations of solar-powered energy systems are increasing. In order to be as productive and efficient as possible, technicians need access to the most user-friendly tools which will keep them safe and save them time and money.

The energy generation capacities of photovoltaic (PV) solar systems are predicted to quadruple between 2022 and 2026, which will increase the requirement for greater numbers of installation and maintenance technicians with various levels of experience and expertise. The only way these operators are going to work safely and efficiently – while complying with the IEC/EN 62446-1 standard – is by using tools in the field that simplify the process of carrying out tests while delivering data that is accurate, reliable and easy to transfer and analyse.
In the coming years, there will need to be many new recruits to the solar power sector, including electricians, project managers, technicians and others, and the tools they use will need to offer them optimal usability and functionality.
User experience and multi-functionality
The first requirement for testing tools is for them to be intuitive in their use in order to protect operators from the kind of issues that can arise when having to interface with complex instruments and processes. At the same time, solar power testing tools need to be capable of carrying out multiple tasks. Multi-functionality is essential if technicians are to avoid carrying several different pieces of equipment into the field and having to switch between them during the testing process. For example, technicians working on PV systems need to measure irradiance energy and take electrical readings, with checks including Watts per square metre of solar irradiation and temperature, as well as cardinal direction and inclination of solar panels.
Integrated for electrical testing
The benefits are obvious of having a single solution that can measure IV curve tracing, protective resistance to earth, open circuit voltage (Voc), short circuit current (Isc), insulation resistance, polarity and inverter efficiency while also testing diode and surge protection devices. By using a solar multi-function tester in conjunction with an irradiance meter – with both instruments connected via Bluetooth – a technician can boost efficiency as data is collected and logged in real-time in the field.

Another key requirement of any PV system testing tool, especially when working on large or complex projects, is to be able to import measurement data directly from the testing instrument to a PC, making it easier to manage all the certification and documentation involved in solar asset management. Consistent and easily understandable reports are essential for those involved in commissioning, installing and maintaining solar-powered energy systems.
Innovating with technician's safety in mind
Finally, tools such as solar clamp meters for current testing need to be as compact as possible since technicians often have to work in cramped environments and with small combiner boxes where space is limited. Safety and efficiency are improved by using measurement tools fitted with thin, durable jaws and a probe that can fit into extremely tight spaces.
"We always have the technician's safety in mind, as well as their productivity and time, when we develop our tools," says Mark Bakker, Field Application Engineer, Fluke. "That is why Fluke's SMFT-1000 Multifunction PV Tester for solar installations operating up to 1000V DC has been designed to offer an all-in-one, easy-to-use solution. Likewise, efficiency and user-friendliness have driven the design of our IRR1-SOL Solar Irradiance Meter, 1587 FC Insulation Multimeter and 393 FC CAT III 1500 V True-rms Clamp Meter (the only 1500V CAT III, IP54 rated, thin jaw clamp meter). The world is changing as we move away from fossil fuel dependency, and it is vital that those working in the solar power sector are given the best opportunities possible to turn the dream of worldwide renewable energy into reality."
More information on Fluke's PV testing equipment is available on the website.