New circular solar panels reduce weight of roof installations by up to two thirds using EconCore technology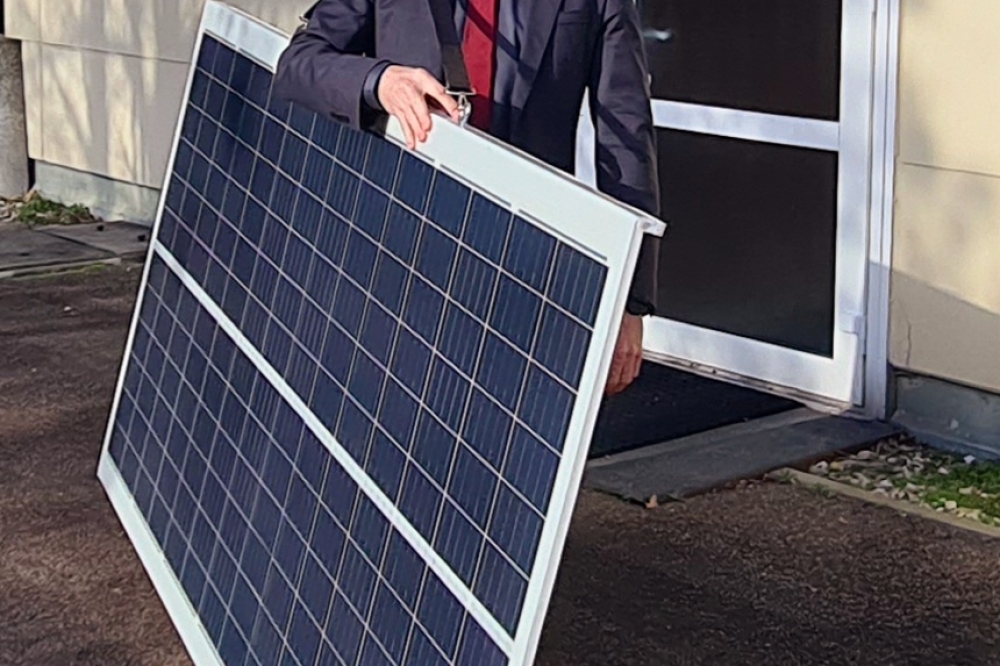 Jochen Pflug, CEO of Econcore, shows how light the new solar panels are – 14.5kg A similar one using the old technology would weigh over 28kg

EconCore in economic honeycomb sandwich material production technology, and Solarge, producer of lightweight, truly circular solar panels, will launch at JEC World a new lightweight, fully circular solar panel, reducing the weight of solar installations by up to 65% for rooftops.
Since early 2018 EconCore and Solarge have intensively collaborated to develop the next generation solar panel, removing weight by replacing heavy glass with lightweight honeycomb materials. The result is a fully recyclable alternative to more traditional non-sustainable materials. A panel measuring just over 2.66m2 weighs 14.5kg, compared to over 28kg with the old glass type model.
The companies are looking at how to replace glass traditionally used in solar panels with a composite, honeycomb structure and a polymer frontside. Honeycomb has fantastic mechanical properties, being very strong and very rigid for a given weight or density. Glass panels also need an aluminium frame, and again honeycomb strips this away, removing yet more weight.
Rigidity and impact resistance are both important properties for solar panels; as bending and impact, for example of hail stones, can result in breakages or decreased efficiency. The honeycomb panels can handle these stresses in different ways, not just through being more rigid.
The new Solarge circular panels enable improved resistance against UV radiation and has much better heat conductivity than glass panels. Solar panels are less efficient as temperature increases and honeycomb delivers a more effective means of controlling temperature.
The current range of panels is very difficult to recycle, whereas EconCore has recently developed a honeycomb core made from recycled materials. One of the possible designs focuses on a monomaterial solution where only the solar cells and the encapsulant would be a different material. And with the encapsulant material being thermoplastic, this would allow the splitting and sorting of the different constituents.
This development builds on Solarge's traditional strength in sustainability with:
· Ultra-low carbon solar footprint: 25% better than conventional modules (in new factory);
· Reduction of material resources need to deliver the mechanical performance;
· 100% recyclability;
· Elimination of toxic materials such as PFAS.
Tomasz Czarnecki, Chief Operations Officer at EconCore, said: "Solar power is an important mechanism to strip carbon out of energy production. It's a simple equation – the more solar panels we can deploy, the more solar energy we can harness, the greater the protection against climate change."
"Making photo voltaics lighter, cheaper, and more efficient means many more buildings will be able to be harnessed to produce solar energy, and every roof that is limited by weight will be able to take more panels. And these panels are sustainable – this has huge potential in the battle against climate change."
Huib van den Heuvel, CCO at Solarge adds: "We see a huge potential in rooftop application in the commercial & industrial building segment and the agricultural sector for lightweight solar panels, all over the world. Compared to glass based solar panels the production of this composite product is very easily scalable. We value the collaboration with ThermHex Waben as a manufacturing partner that supports our ambitious growth plans."